LOVE LETTERS | NUMBERS | LETTER LIGHTS
At The Giant Letter Co., we are dedicated to making your special occasions even more magical by offering an extensive selection of freestanding illuminated letters, numbers, symbols, and custom designs that infuse your event with a captivating glow. Whether it's a wedding, corporate gala, milestone birthday, or any event deserving of a spotlight, our meticulously crafted creations serve as focal points that set the tone for the entire gathering, creating an enchanting ambiance and providing perfect backdrops for memorable photos.
From elegant "Mr & Mrs" letters radiating love to the timeless charm of illuminated "Love" letters, each piece adds a unique radiance that transforms your space into a captivating wonderland. With a keen attention to detail and an understanding of diverse aesthetics, we take pride in seamlessly integrating our letters into your theme, ensuring they become a conversation-worthy part of your cherished moments. Explore the possibilities at [https://giantletterco.com.au/](https://giantletterco.com.au/) and let The Giant Letter Co. illuminate your event, turning it into an unforgettable symphony of light, love, and celebration that will be etched in your memories forever.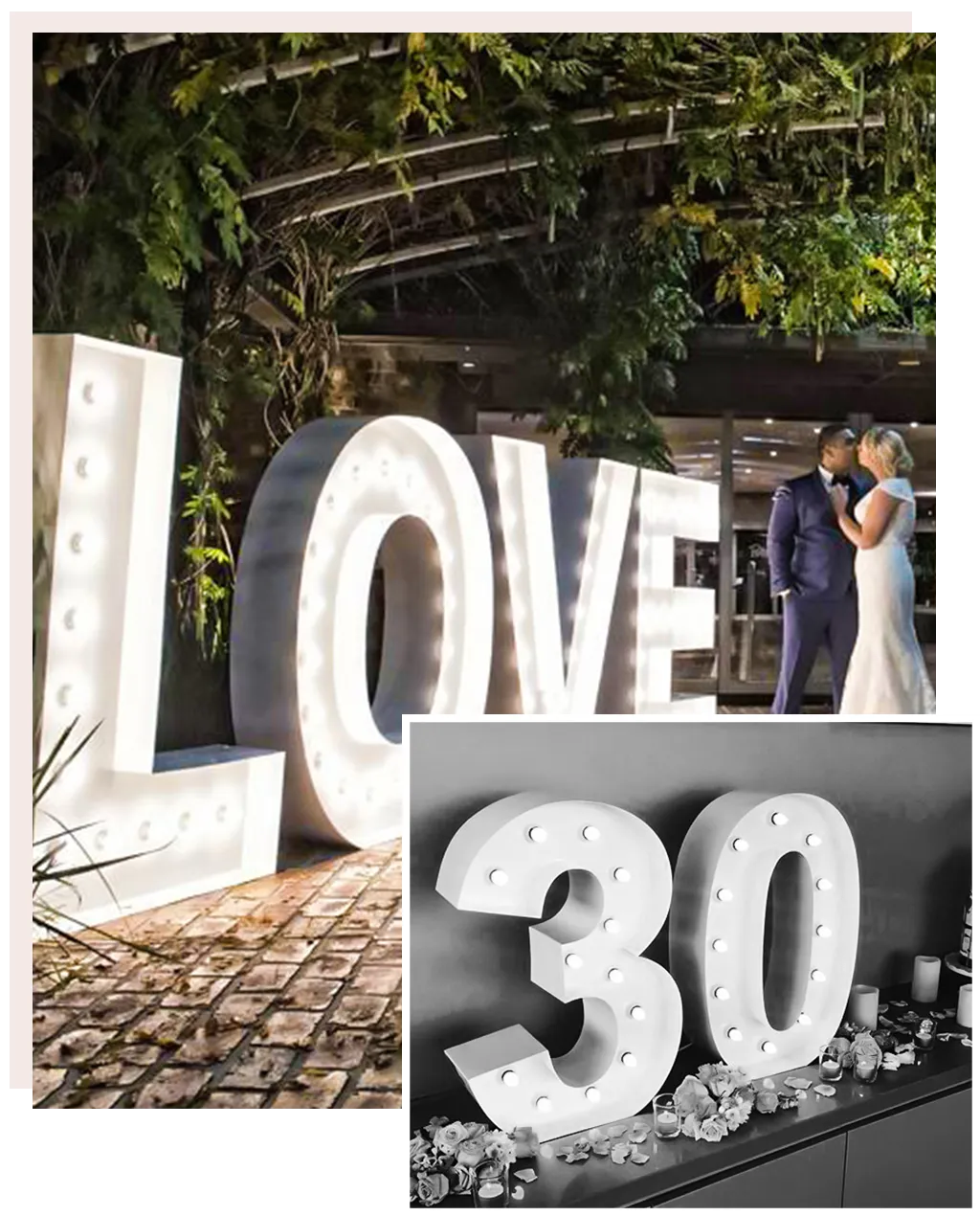 Gorgeous giant lights are delivered all over Melbourne, & are collected the after the event, hassle free! No need to worry about collecting or dropping off, just let us know & we'll make it happen for you. The simplicity of not having to worry about collection or setup means that you can sit back, relax and enjoy your event! Nobody wants the hassle of ensuring that your big letters are setup properly. You should be busy mingling & drinking!
EVERY EVENT
From love letters at weddings to bespoke corporate branding, and everything in between. Light up your 21st birthday, or have your name written out in letter lights. With different sizes & styles of letters – you're able to customise your choice to suit your event dreams and aspirations.
We Use the Giant Letter Co.
Please contact The Giant Letter Co. on
0407 704 197