Hire a Melbourne Champagne Dress Girl
You're planning an event. Maybe it's a birthday party, maybe it's a corporate function, or perhaps it's something else entirely. No matter what you're hosting, one thing is for sure: you want it to be a success!
One way to ensure your event is a hit is to hire a Melbourne Champagne Dress Girl. A Champagne Dress Girl will add a touch of sophistication to any event, and she's sure to get your guests talking!
We can provide you with high-quality, professional champagne girls to make sure your guests are kept entertained throughout your event. Our champagne girls are experienced in providing top-notch customer service and will go above and beyond to ensure your guests are happy. Plus, they look great in our signature champagne skirt!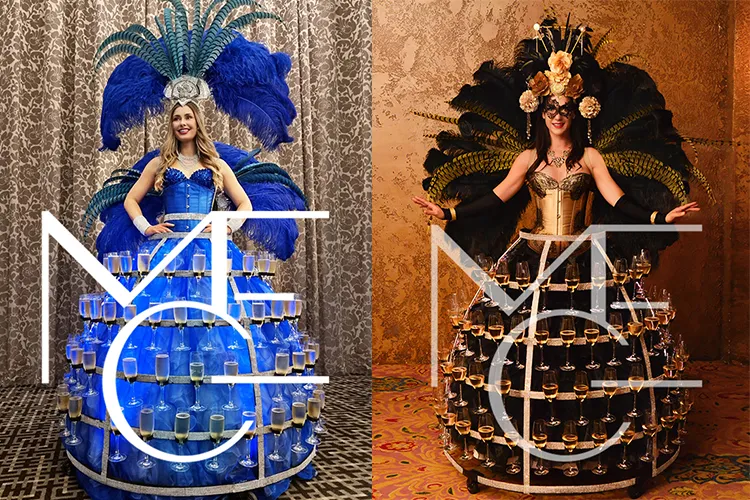 What are Champagne Dress Girls?
Champagne girls are the ultimate party servers! These lovely ladies are hired to pour champagne for guests at events into the glasses on their magnificent dress, and they do it in style! They wear a beautiful champagne skirt that can be designed to match your event's theme! Their grandiosity will make any gathering feel like a luxurious affair. All while ensuring everyone gets a glass of bubbly!
Our champagne dress girls are the perfect way to add some excitement and star power to your event:
Birthdays – Singing "Happy Birthday" is always more fun with a glass of champagne in your hand!
Corporate functions- Reward your employees with a glass of bubbly!
Bachelorette parties – Kick off the night with a champagne toast to the hen!
Weddings – Toast to the happy couple with champagne served by our beautiful champagne girls.
Just a regular party- Want to add some extra excitement to your party? Our champagne girls will make sure your guests are having a great time!
No matter what kind of event you're hosting, our Melbourne Champagne Girls will POP your party to the next level!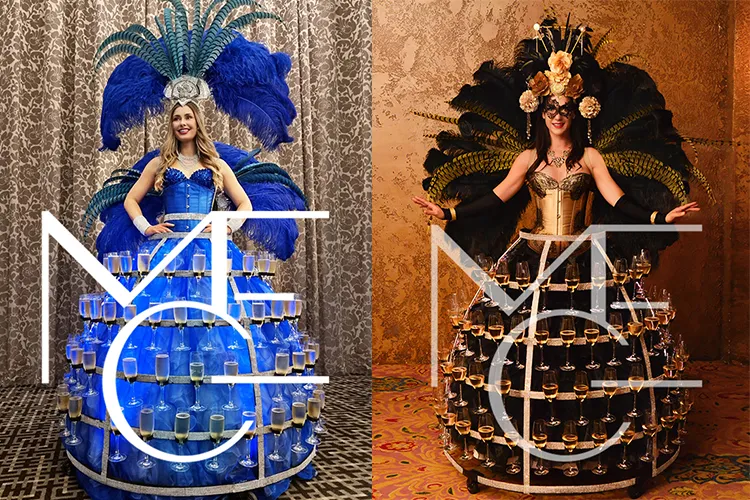 Champagne Skirts & Servers
You want your event to be the talk of the town, and our Melbourne Champagne Dress Girls & Servers will make sure it is! We'll work with you to ensure your event is everything you've ever dreamed of and more. Contact us today to learn more about how we can help make your event a raging success!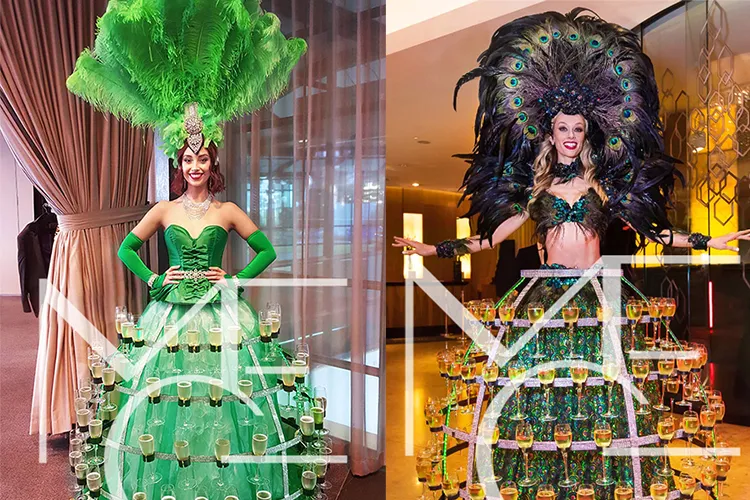 Questions about your Champagne Dress Girls
Got a questions? We're here to answer! If you don't see your question here, drop us a line on our Contact Page.
Do we need to provide parking for your performers?
Complimentary parking close to the venue must be supplied for two cars.
Does the quote include the cost of champagne?
Quotes do not include the cost of Champagne, that would need to be organised through the venue & their liquor license.
How many glasses can the dress hold & how many bottles of champagne do we need to fill them?
The width and height of the Melbourne dress are 135cm and 115cm respectively, whereas the Perth dress is 125cm wide and 110cm high. The Melbourne dress can hold 100 glasses, while the Perth dress can hold 85 glasses.
What time do performers arrive?
Performers arrive 60mins before start time.
How much space do we need to provide?
2m square space around and 2m height clearance is required.
Do your performers need breaks?
Roving entertainers that are booked for longer than a 1 hour sets will require breaks.
1 hour bookings requires no breaks.
2 hour bookings will run as a 50 minute set, 20 minute break, followed by a second 50 minute set.
3 hour bookings will run as 3x 45 minute sets with 2x 15 minute breaks.
Do we get to select the costume?
We have a large collection of original and stunning costumes to suit any occasion for under the dress. Pre-owned costume fees are included in the prices that we quote you.
What if I want a costume that you don't already own?
If we do not already own a particular costume and you would like to see it in your performance, then we can have our costume department create it for you. We generally require about 6 weeks notice for custom costume requests. You will be required to pay the cost of the costume maker to create the pieces. All costumes are the property of the Champagne Dress managers at Melbourne Entertainment Company.
What do your performers need to be provided with?
A private and secure change room with ample lighting, mirrors, and water. Public restrooms will not be suitable

A venue bartender or waiter to consistently fill glasses to add to the dress, assisting our Site Manager

A table must be setup close to the dress and used as the station where my entertainment manager and the waiter will be able to work, filling more glasses

Contact person on the day is required. Supply a mobile number
Can I ask your performers to stay longer on the night?
If you wish to extend the performer's booking time on the night, extra fees will be incurred. This will need to be cleared with Melbourne Entertainment Company before we can confirm. In some circumstances, performers will have other bookings so this may not be possible.
Can we drink the champagne anytime?
We advise that the venue hold off on serving champagne to guests till after the act has finished. There would be less interaction with the Champagne Showgirl if all guests have already been served their sparkling.
It's outdoors is this ok?
Provided the dress isn't in direct sunlight for extended periods of time on a hot day over 25 degrees. Generally, it's preferred that our performers are under-cover / under an umbrella.