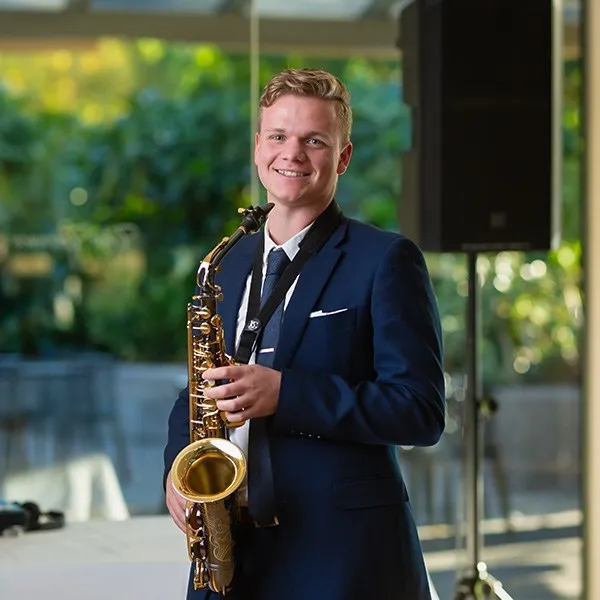 ABOUT
Jaaz is an experienced improvisational saxophonist turned DJ who has completed his musical studies at Monash University. He has over a decade of experience on the Tenor & Alto, having front-manned many bands & stage performances in the past 10 years. Originally specialising in Jazz, Jaaz now loves just as much jamming on the sax to the greatest hits of the last 40 years.
WEDDINGS & WINE
Jaaz has worked in the wedding and events space for many years at one of our favourite venues, Coombe Winery in the Yarra Valley. Having witnessed in excess of 200 weddings at Coombe in his part-time position, Jaaz knows what songs will keep a dance-floor pumping, and more importantly….what songs don't!
PERFORMANCE
From The Terrace at the Botanical Gardens, to Stillwater Crittenden Estate Winery, Jaaz has played at some of the best venues Melbourne has to offer. This man loves nothing more than jumping into the middle of the dance-floor & ripping out an epic sax line from your chart-topping favourites.
DJ Jaaz exceeded all expectations! My goal was for our wedding was to have everyone on the dance floor all night and that was definitely achieved! The saxophone was a point of difference that got everyone engaged and was truly one of the happiest moments of our lives! Thank you!
Jaaz brought the party vibe to our wedding! DJ + Sax skills combined, we've had so many people ask for Jaaz's details. Jaaz put a killer setlist together to make sure everyone was dancing until the end! Highly recommend.
Jaaz was our DJ and saxophonist for our wedding in March and he was awesome – the music was spot on, he got everybody on the dancefloor and it was so great to have him on the sax and able to interact with everyone. On top of that he was super friendly and professional – couldn't recommend him enough!
Jaaz was AMAZING, what a dancefloor we had! The music throughout the evening was perfect and the dancefloor was beyond what we could have hoped. He read the crowd so well and got in-and-amongst it with his phenomenal saxophone skills. We will absolutely be using him again for future events and would highly recommend for anyone looking for top class entertainment for their next event.
We recently got married and had Jaaz from MEC as our DJ/saxophonist. We simply cannot speak highly enough of Jaaz. Firstly, he was a joy to work with, super friendly and fun, every time we looked over at him he had a huge smile on his face, it was clear that he too was just completely loving it, embracing the music and the moment. Secondly, the music was fantastic, he played banger after banger and it was actually impossible to get off the dancefloor! It was a succession of continuous unmissable tunes which made for an epic dance floor. Additionally his saxophone skills are amazing, he wowed our guests and it added such a cool point of difference. Finally, he has incredible intuition and read the room like an absolute professional – he made our night by playing the perfect final song. He had picked up on a few references during the speeches and responded to a buzzing crowd chanting 'one more song!' with the most perfect, relevant and uniquely 'us' song. I was just blown away, I assumed someone must have requested this specifically as the last song, but it was his own stroke of genius. It created an unforgettable moment, and we are so grateful for his brilliance. Would highly recommend Jaaz for any event, he simply nailed it!
We had Jaaz DJ at my cocktail wedding on the weekend and he was incredible – he could really read the room and there was not a moment when the music was not perfect and the dance floor not heaving! Loved the sax. Highly highly recommend
WOW! Where do I begin?! Nathan & Jaaz… What fine young men with talent that will blow you and your guests away! I was so lucky to have 2 of the best DJ our wedding and entertain 150 guests all evening with their saxophones! Everyone cannot stop RAVING about these two! Not only were they so much fun to party with, but in the final days prior to our day, the communication from Nathan & Jaaz was second to none. They had every little detail covered and made me feel at ease. I told them to just do their thing and boy did they nail it! Look no further because they are THE BEST IN THE BUSINESS!
Jaaz was the perfect DJ for our event! He was lovely to deal with, played some amazing tunes and really lifted the atmosphere! As well as this he occasionally brought out the saxophone for some added fun!
Thanks so much Jaaz, your energy and talent lifted our event to the next level!
We had Jaaz for our wedding in December and we couldn't recommend him more highly 🙂 Music was everything we asked for and more – the sax was awesome and got the party pumping, but wasn't too overbearing when people wanted to dance, exactly what we wanted! MEC were also fantastic, communication was excellent and they were more than willing to accommodate us through the rollercoaster that was 2020.
Thanks so much to Jaaz for playing at our reception on Saturday night! You're amazing!!!
We had Jaaz DJ at a wedding I MCed last night, he was just fantastic to work with, very accommodating and really kept the dancefloor going. Saxophone is just such a great addition alongside DJ music. Very fun night, thanks Jaaz!!!
Jaaz was amazing and an absolute pleasure to deal with! Highly recommend