Be mesmerized and enchanted by Melbourne's premier tarot card readers. Delve into the mysteries of the cards and embark on a captivating journey of self-discovery. Their presence will infuse your event with an aura of magic and sophistication, leaving an unforgettable impression on your guests for years to come. 
INTERACTIVE AND FUN TAROT CARD READING
Elevate your event with an interactive and engaging tarot card reading experience that adds an air of mystery and excitement. Whether it's a small gathering or a large-scale corporate event, the allure of tarot reading brings a unique form of entertainment that captivates guests. As attendees spot the tarot reader, curiosity is sparked, leading to moments of intrigue and personal discovery. Each reading offers insights, predictions, and spiritual wisdom, leaving guests feeling uplifted and eager to share their experiences. With its interactive and fun nature, tarot card reading becomes a memorable highlight, creating an atmosphere of enjoyment and delight for all in attendance.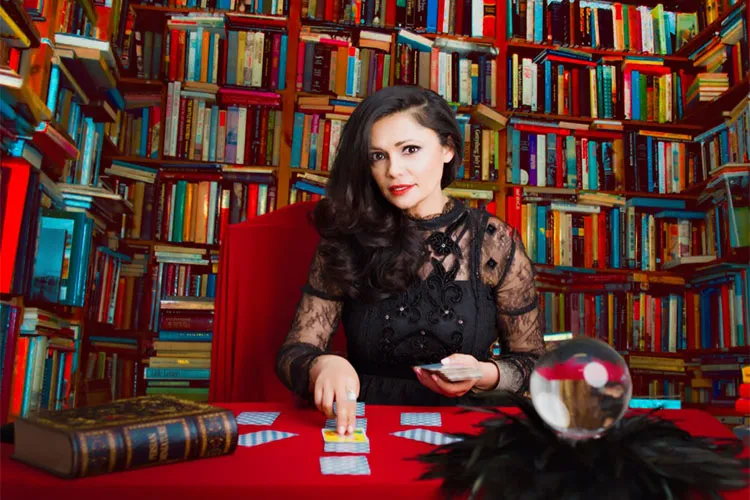 PSYCHIC
Our talented tart card readers have immersed themselves in the ancient Art of Divination, gaining extensive experience reading for clients worldwide. With a diverse background in various fields and a deep passion for tarot, they bring a wealth of knowledge and insight to every reading. From psychic TV appearances to renowned psychic fairs, their expertise has been recognized and celebrated. Choose our experience tarot card readers to create an atmosphere of enchantment and enlightenment at your next event. 
Enchant Your Event With Tarot
Elevate your event to unforgettable heights by booking our exceptional tarot card readers. With their captivating insights and mystical interpretations, they will weave an atmosphere of intrigue and wonder, leaving a lasting impression on your guests. From corporate gatherings to private celebrations, our tarot card readers provide personalised readings that add a touch of magic to any occasion. Don't miss the opportunity to infuse your events with enchantment and create cherished memories for all in attendance. 
Questions about your Tarot Card Reader
Got a questions? We're here to answer! If you don't see your question here, drop us a line on our Contact Page.
How long does each tarot reading take?
A tarot card reading can take anywhere between 10 to 40 minutes. It all depends on how many questions the client has. During an event, the reader tries to do 10 to 15 minute readings per person where they try to cover 1 to 3 questions maximum. The longer the reading, the more valuable the experience.
Can you read more than one person at once?
That is not feasible, however, if a couple comes and they request a joint reading, regarding their relationship, that can be accommodated. In such a case, the reader typically does one reading for each individual and then one reading for them as a pair.
What does the Tarot reader come with?
Typically, all that's required by the reader is their deck of cards.
What time will you arrive?
The reader will be arriving approximately 30 minutes before the scheduled starting time. This buffer allows for ample preparation and ensures I'm ready and available right when things kick off.
Do the Tarot Card readers need to take breaks?
Certainly, incorporating breaks of 10 to 15 minutes every hour is highly recommended. These breaks give our readers time to recharge, refocus and remain active throughout the day.
My event has 100+ people, how do I manage the line of people & ensure that we get to everyone?
The reader suggests that the client books the reader for the entire duration of the event and specifies how many minutes they prefer each client receive the reading for. The client is welcome to book multiple readers to assist in getting through more guests. A quick 5-minute reading of one question each can be provided, but we find that it is not as enjoyable an experience. Guests are more than welcome to wait for their turn close to the table.
How many people can you read in an hour?
During an event, the reader attempts to conduct 10 to 15 minute readings per person, where they aim to address 1 to 3 questions maximum. Based on this estimation, the reader an perform readings for approximately 8-10 people in one hour.
What do I need to provide for the reader?
The reader requires the client's full name and the questions they want the answers to. If the clients share their sun sign or date of birth, this also helps the reader.
How much space do the Tarot Card Readers need?
The required space should ideally accommodate a table with a minimum of 2 chairs, providing a comfortable setting for interaction.
What will the reader wear?
Typically, the reader opts for smart casual attire, which is comfrtable yet polished. However, they remain flexible and are open to wearing a dress should the event organizers prefer or specify such attire.
Do you do private readings at my house?
Yes, the reader can arrange a reading at the client's house if it is a house party or event. If the client would like a personal reading, the reader prefers to meet in a cafe that is not crowded for safety reasons. If the client still prefers a reading alone at their residence, the reader requests that the client sign a document stating that they take responsibility for the reader's safety in their place of residence.
Can the Tarot Reader provide a table cloth or do we the client need to provide it?
The reader prefers that the client provides a tablecloth, but it is not essential, as long as the table surface is smooth and clean.
CHECK AVAILABILITY FOR YOUR EVENT